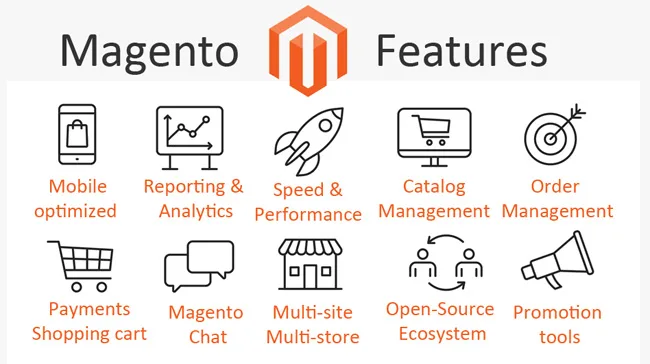 Magento is an open-source e-commerce platform that provides businesses with a flexible and scalable solution for creating and managing their online stores. It offers a range of features and tools for building a customized e-commerce experience, including powerful catalog management, search engine optimization, and built-in marketing and promotion tools. Magento is highly customizable and extensible, allowing businesses to tailor their online stores to their specific needs.
One of the key features of Magento is its flexible architecture, which allows businesses to create highly customized online stores. Magento is built on a modular architecture, with a core set of features and modules that can be extended and customized to meet the needs of the business. This allows businesses to create a unique online store that reflects their brand and meets the needs of their customers.
Another key feature of Magento is its scalability. The platform is designed to support businesses of all sizes, from small startups to large enterprises. Magento can handle large product catalogs and high traffic volumes, making it a popular choice for businesses with complex e-commerce requirements. Magento's pricing plans are designed to reflect the needs of businesses of different sizes, with different levels of functionality and support available at different price points.
Magento also offers a range of built-in marketing and promotion tools that businesses can use to drive sales and grow their customer base. The platform includes features like discounts and coupons, email marketing, and loyalty programs, as well as powerful analytics and reporting tools that allow businesses to track their performance and make data-driven decisions about their marketing and sales strategies.
Overall, Magento is a powerful and flexible e-commerce platform that offers businesses a range of features and tools for creating and managing their online stores. With its modular architecture, scalability, and built-in marketing and promotion tools, Magento is a popular choice for businesses that require a highly customized and scalable e-commerce solution.
There is no "one-price fits all for Magento development" but a basic Magento website with everything setup starts at about 2000$. The actual price depends on detailed specs and can be given only once a spec sheet is made. In case of a large shop with over 1000 products i would recommend this platform but in most cases the Woocommerce platform or the laravel shop are a better match.  Magento developers tend to be considered "advanced" and as such come with a high price tag for even the most basic tasks. I worked exclusively with Magento for a year and can defiantly handle any issue it may have or any project, but for most of my clients i recommend a more cost-effective solution.